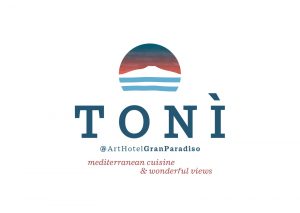 Tonì Mediterranean Cuisine & Wonderful View
Are you staying for dinner with us? Take a seat in the room overlooking the Sorrento peninsula, illuminated by warm colors and let yourself be tempted by the flavors of our Mediterranean cuisine, made of passion and craftsmanship; it is a taste experience that embraces all the senses and it is the result of great technical preparation and research of the products of our territory.
In the summer, dinner moves to the terrace; it is heavenly to admire the setting sun as it hides between the islands of the Gulf and then the first stars of the evening arrive with a cool breeze that gladdens your stay. A magical moment often accompanied by the notes of the piano bar or a background of lounge music. The view is incomparable and the atmosphere is romantic and relaxing.
The Tonì Restaurant offers Mediterranean cuisine, with Sorrentine specialties, aiming for quality with fresh and first choice ingredients. The à la carte menu is rich and varied and always features one or more options for vegetarians. There are also products for celiacs.
Free parking and WiFi are available on site.
Free Shuttle from Sorrento Station at the following times:
Departure from sorrento station: 18:00, 19:00, 20:40, 21:40
Departures from the Tonì Restaurant to the station: 17.50, 18:50, 20:30, 21:30, 22:50, 23:20
Hours: 19:00 – 22:00
Reservation is recommended