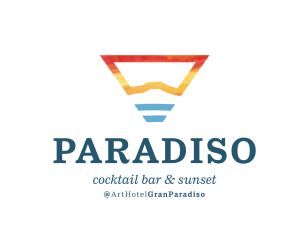 Paradiso Cocktail Bar & Sunset
Every day on the panoramic terrace of the hotel until 24:00 at our Bar "Paradiso", you will be kidnapped by a magical atmosphere that you can enjoy relaxing on our panoramic terrace on board
swimming pool, overlooking the entire Gulf of Naples with a view of Vesuvius, you can savor and taste wines,
Aperitifs and cocktails after dinner, You will feel like you are in "Paradise" conquered by a unique setting
where the sun at dusk plunges into the sea of ​​Sorrento….
Il Paradiso cocktail bar & amp; sunset, from 12:00 to 15:00 offers a service of Pool site bar and Restaurant, with a
Menu that favors local products and Mediterranean flavors.

Free parking and WiFi are available on site.
Free Shuttle to and from Sorrento Station at the following times:
Departure from sorrento station: 10:40, 12:10, 13:40, 15:10, 16:40, 18:00, 19:00, 20:40, 21:40, 22:40
Departures from the Art Hotel Gran Paradiso to the station: 12:00, 13:30, 15:00, 16:30, 17:50, 18:50, 20:30, 21:30, 22:50, 23:20
Hours: 10:00 – 24:00
Reservations are recommended